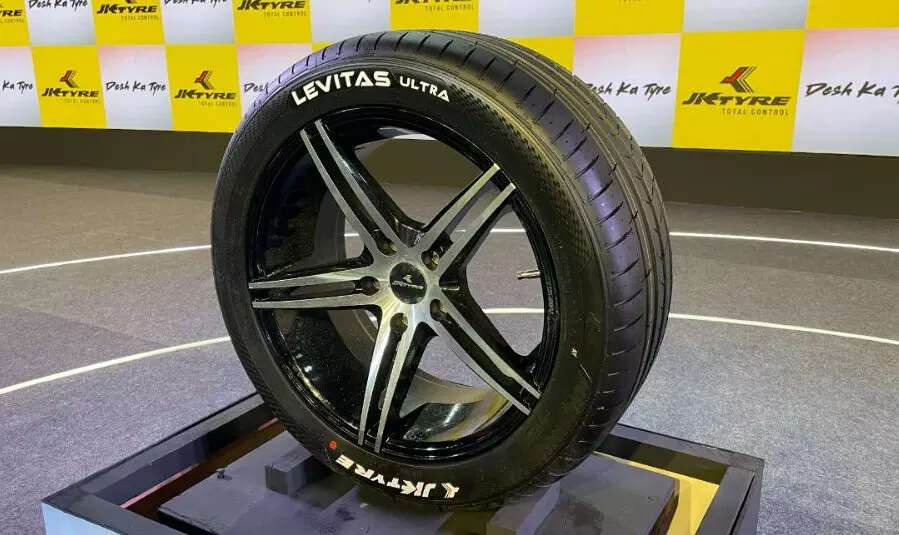 New Delhi: The INR 8000-crore JK Tyre & Industries, which recently introduced Levitas Ultra range of tyres for the luxury car segment, said simulation technology via Artificial Intelligence (AI) and Machine Learning (ML) helped it leverage its market entry.
"These Ultra High Performance (UHP) tyres are formulated with high-grade MFX Polymer to ensure durability for Indian roads and stability during hard cornering. Additionally, in designing the grooves for the tyre for water wading capability to avoid aquaplaning, data is continuously required to work and improve upon. So, the simulations that have to be done and the algorithms that have to be hit are all done via AI and ML," Anuj Kathuria, President, JK Tyre. told ETAuto.
The company is offering the Levitas Ultra tyres in seven sizes, ranging from 225/55 R16 to 245/45 R18 for premium cars. Though JK has not shared the prices of these tyres yet, it says that they will be priced cheaper than the companies which directly import them to the country. Further, it plans to enlarge its portfolio by introducing these tyres in 19 to 22-inch range.
Currently, the market size for high end car tyres is at 50,000 in India and the segment is dominated by the brands like Pirelli, Michelin, and Continental.
To cater to the premium car segment in India, Apollo Tyres also introduced locally produced Vredestein tyres in 2021. It first acquired the European brand in 2009 and introduced it in India in 2013 with a range of imported tyres for premium and luxury passenger cars. MRF also launched its Perfina range of luxury and premium car tyres in 2017.
"Levitas Ultra is a contemporary product. Five years ago, the polymer and the kind of grooves that we used may not have been available. A product that comes later definitely should be a better one because technology is rapidly changing," Kathuria noted.
More than bringing high volumes, JK has introduced the Levitas Ultra to add premiumness to its brand and fill up the white space in the niche segment. It may also enter the premium two-wheeler tyre market in future.
"We can enter the premium two wheeler tyre segment also, but there is no immediate plan as such. We have the capabilities, but the market has to be seen."
Business outlook
Recently, the World Bank Group member IFC said it will invest USD 30 million (about INR 240 crore) to pick a 5.6% stake in JK Tyre to part-fund expansion of energy-efficient tyre manufacturing.
With this, the company which is not keen on greenfield facilities is targeting to increase production of energy-efficient radial tyres at the existing Chennai and Gwalior plants by more than 10%, from 32 million to over 35 million tyres a year by 2025.
The latest investment comes as part of the first tranche investment of INR 780 crore, which is a revised figure of INR 680 crore originally planned in 2018. Another investment of INR 900-crore is planned in FY25. The cumulative investment plan is of INR 1680 crore and most of this investment is for passenger tyres. Funding will be through a mix of debt and equity.
A sizable part of the company's revenue comes from PCR radial tyres. Going forward, it seems positive of growth momentum in the next financial year.
JK prides itself as the single source supplier to JBM electric buses. The company is also in the works with a bunch of electric two-wheeler manufacturers. For the passenger vehicle segment, it offers the Ranger HPE range of EV tyres.
Tyres have a role to play in EVs as to how much a vehicle can run on a single charge. This can be done with a bigger-sized battery, but higher battery weight can also be a trade-off. Here tyres play a role of reducing the rolling resistance.
While for regular cars, the range of tyres is 7 to 7.5. For EVs, JK offers tyres that have a range of less than 5.5.