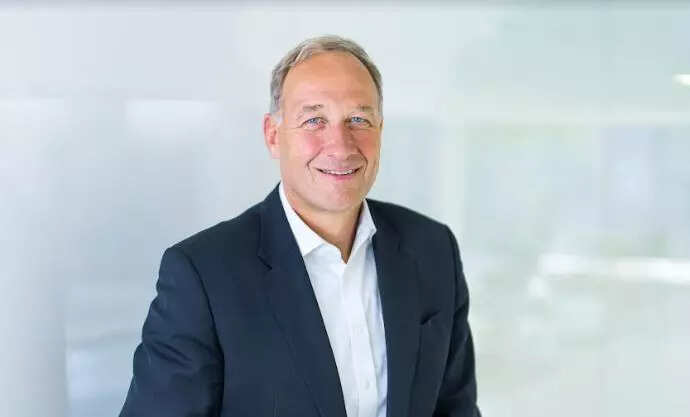 Imagine travelling in a car which keeps you comfortable with an ideal cabin temperature with its HVAC (Heating, Ventilation and Air Conditioning) adjusting itself automatically according to the direction of the sun. Now imagine the system also keeping a check on some of your vitals to ensure your wellbeing. Not quite what an HVAC system does today, but that's what Mahle wants to put in cars maybe in a couple of years. The author experienced this technology concept at the IAA Mobility earlier this month."It's just really amazing how you can, with an interior camera, measure skin temperature, see sweat appearance, measure heart rate, blood pressure, and other parameters. And all those are parameters of wellbeing." Arnd Franz, CEO & Chairman, Mahle Group, told ETAuto. It's a complex and innovative solution driven by advanced software technology.
As the softwarisation trend grows in the automobile industry, India's role as a global engineering base is also set to grow significantly for Mahle. The company has a global engineering centre in Pune, which Franz inaugurated 10 years ago. It has developed some "really, very complicated programs" with strong support from India.
In some cases, the majority of the engineering work was done out of India. "As software will become more important for Mahle in the future, we are really looking forward to also involving our Indian engineering talent and engineering force into that software development," Franz said.
The global engineering centre in Pune, one of Mahle's 12 technology development bases worldwide, has around 450 engineers. Mahle is in the process of selecting It, along with a centre in Europe, and one elsewhere to make it a group to develop advanced software engineering for the future.
Renewed focus on India, Japan, China .
Asia contributes around 24% to Mahle's global turnover, and India's share in it is at EUR 400 million. Franz sees strong growth opportunities for his company in the region, as over 50% of the world's vehicle production takes place in Asia. He's bullish on India as he says, "In India there was record sales last year, and record production, and I hope that this path will continue."
Like some of the other global organisations, the bigger growth opportunities in this part of the world, and certain macroeconomic concerns in the West are also making Mahle draw its business strategies accordingly. "I think a big part of the industry is still slightly optimistic. But I believe some of the economic parameters in the perimeter of what we do are not very promising," says Franz when asked about recessionary concerns in mature markets like Europe, North America.
Strong cost pressures due to rising energy costs, inflation in Europe, non-availability of qualified labour in many parts of Europe and North America are some of the "restrictions to business success" that Mahle sees.
Innovation for business sustainability
As the CEO of a global organisation with production in 152 locations, and 72,000 employees, apart from the obvious targets of cost control and profitability, consistent innovation is something that Franz stresses on, maybe now more than ever before, to succeed in the increasingly disruptive age.
"I strongly believe that we can only be successful on a global basis if we continue to successfully innovate and provide solutions to our customers that make sense, and create value for them. And that's why I'm pushing innovation throughout all our global operations, and that's why I praise great ideas coming out of a great engineering community," Franz said.
One such idea is the smart HVAC system mentioned at the beginning of the story. The areas for software development, Franz said, will be for example, intelligent, cabin comfort. The idea is to use algorithms to gather sensor information from the cameras, light, temperature, and "create nearly an autonomous way of really managing temperature and air and other things in the cabin, in the zones for the driver, the co-driver and the rear seat passengers".
The share of innovative ideas and cutting edge technologies is going up in the bouquet of offerings by industry players like Mahle. And it has to go up further to enhance the organisation's competitiveness. Reason enough for Mahle to have an R&D budget of Euro 700 million, or over 5% of its revenue, last year.