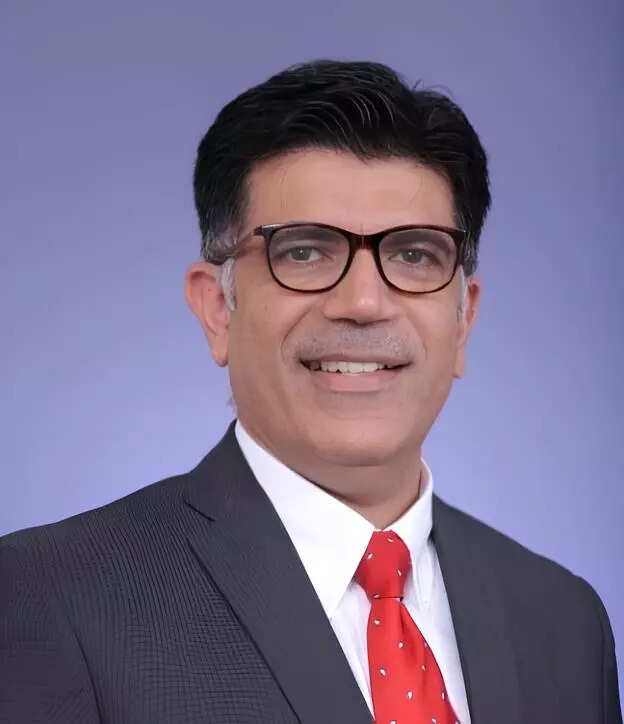 Edited excerpts:
Q: Where do you think India lags in digital, smart manufacturing compared to large global manufacturing companies?

I want to emphasize the game-changing impact of digital technology on the Indian economy, particularly in manufacturing and the automotive sector. The country is at a pivotal moment, with digital innovations driving exponential GDP growth.
Manufacturing, including the automotive industry, has been quick to adopt digital solutions like MES and PLM, resulting in tangible business improvements. However, challenges such as supply chain disruptions and talent shortages require a new digital-driven approach across the entire value chain.
For India to become a top global economy, manufacturing must reach a trillion-dollar scale, necessitating a fundamental transformation rather than incremental changes. My passion lies in this transformation, with a focus on the interconnected value chain, supported by various digital twins.
Digital twins, like CAD designs and process models, play a vital role in optimizing processes, reducing waste, and accelerating time-to-market. They allow us to recreate production lines in the digital realm, addressing issues before they impact real-world operations.
I'm excited about the potential of this technology to create real-world value for manufacturers and empower our workforce. The ongoing debate about technology's impact on humans is relevant, and when harnessed effectively, it can greatly benefit our industry and people.
Q: The need for growth and the demand for jobs and skill development persist, while automation is inevitable. But how do they meet without sacrificing any aspect? What is the Rockwell solution?
To address unemployment and skill development while embracing automation, we must prioritize growth. Achieving a $1 trillion manufacturing economy, a crucial goal for India, requires sustained growth. This growth won't happen at the expense of jobs; rather, it relies on a skilled workforce.
For fostering both economic expansion and employment opportunities, manufacturing must contribute 25% to GDP. Growth hinges on talent, and technology alone cannot replace humans. We need skilled and empowered individuals.
The shift towards human-centric technology is essential. Such technology ensures better adoption and paves the way for growth. If technology isn't human-centric, its adoption will suffer, hindering growth and job creation.
The path to USD1 trillion depends on accelerating digital adoption, addressing skill gaps, and empowering the workforce. This approach resolves the chicken-and-egg dilemma. Human-centric technology adoption on the shop floor is where the real impact occurs.
In conclusion, a focus on growth, supported by a skilled and empowered workforce through human-centric technology, is the key to overcoming the challenges of automation while ensuring job opportunities and efficiency.

Q: How can India achieve the goal of becoming a top-three global economy with a minimum USD 1 trillion manufacturing sector? What are the challenges, and when can this goal be realistically achieved?
Achieving a USD1 trillion manufacturing sector to propel India into a top-three global economy is an ambitious goal, and while I'm not an economist, I believe we should have a realistic pathway toward this objective in the near future.
India has seen significant promise and attracted substantial investments, as evidenced by the booming mobile and electronics manufacturing industry. Policies like the Production-Linked Incentive (PLI) schemes, particularly for sectors like automotive, life sciences, and chemicals, are contributing to this growth. Additionally, PLIs are being introduced for cutting-edge industries like semiconductors and batteries, which is attracting new investors and spurring excitement.
The pace of change appears to be faster than anticipated, suggesting that with continued policy support and industry focus, we can work toward crossing this milestone within the next few years.
Q: Will the China Plus One strategy help?
While it could have worked even better, there has been a positive fallout from the recent developments. The narrative has shifted from "China plus One" to focusing on supply chain resiliency. Dependence on a single large country for supply chains is no longer acceptable; resilience is key. Supply chains over last 25 years were not designed for resilience.
COVID-19 demonstrated that supply chains designed for efficiency must evolve to prioritize resilience. Geopolitical factors are contributing to this shift, but it goes deeper; it's about ensuring predictability and resilience in supply chains, which are vital for value creation.
Q: What are India's weaknesses in becoming a global manufacturing hub, and what radical digital transformation strategies should companies adopt to achieve this goal?

India faces challenges in increasing the manufacturing sector's share of GDP, which has remained relatively static. To address this, we must think big and differently. Digital transformation, especially cloud computing, offers an unprecedented opportunity. The cloud levels the playing field, allowing firms of any size to access advanced tools without heavy infrastructure costs.
However, there's a gap in India's digital adoption, despite its entrepreneurial spirit. Many firms have dabbled in digital but struggle to derive real value. To overcome this, a mindset shift is crucial. Instead of focusing on proof of concept, businesses should prioritize proof of value and scale. They need to demonstrate that digital solutions provide tangible benefits and can be applied at a larger scale.
In our recent survey, Indian participants showed strong interest in digital, but realizing its potential remains a challenge. To unlock India's manufacturing potential, we must encourage businesses to embrace digital strategies that prove their value and scalability, fostering innovation and competitiveness.
Q: Is the North losing its manufacturing dominance to the southern cities like Chennai, Bengaluru and Hyderabad?
While I'm not an expert in this area, I have noticed excitement and growth in the northern region, including Delhi. Some pharmaceutical companies have set up production facilities in northern states like Uttarakhand, attracting significant investments.
Additionally, I've recently had discussions with a major undisclosed automotive company planning a substantial new plant in this region. The implementation of GST, despite initial challenges, has created a unified market across India, enhancing interconnectivity among states and industrial clusters.
As physical infrastructure and transportation networks improve, these regions will become more seamlessly connected, fostering further growth. Overall, I'm optimistic about the northern region's potential for industrial development and competitiveness.
Q: Are the Indian factories, especially the MSMEs and small suppliers, equipped to handle such advanced technologies as those used by global manufacturing companies, or do they need further development to reach a similar stage?
Rockwell Automation believes that each industry and its firms are at different stages of digital readiness. To make an industry smart, you must work with the firms within it and meet them where they currently stand. We advocate for a diagnostic approach, such as an early-stage digital manufacturing assessment, to determine each firm's unique position in its digital journey.
From there, our strategy adapts to align with the client's starting point, ensuring that we provide support and solutions tailored to their specific needs. This approach recognizes that firms within the same industry can vary widely in their digital capabilities, and the journey towards becoming smarter must be flexible and human-centric, starting from where the client is and guiding them to where they need to be.
Q: How can technology companies like Rockwell assist tier-two suppliers who may not have advanced factories and workflows like larger organizations in the supply chain, such as the Lumax Group?

The vulnerabilities of large manufacturing industries often extend beyond their own factories and into their ecosystems. These vulnerabilities encompass not only operational risks but also cybersecurity threats. In many cases, the resilience of factories can be disrupted through their ecosystem, making it crucial for companies to strengthen their supply chain partners.
For tier-two suppliers or smaller ecosystem players, support from technology companies like Rockwell Automation is essential. Firstly, cybersecurity is a significant concern, and ensuring that smaller entities have robust cybersecurity measures is vital to protect the entire supply chain. Collaborative efforts in this regard can help enhance security across the board.
Secondly, from an operational perspective, these suppliers may lack advanced automation and digital capabilities. Here, technology companies can offer scalable solutions that are cost-effective and tailored to their needs. This can include providing affordable access to digital tools, cloud-based platforms, and automation technologies, enabling smaller suppliers to improve their efficiency and productivity.
Additionally, technology firms can facilitate knowledge sharing and provide training programs to help -two suppliers upskill their workforce and embrace digital technologies. By bridging the gap between larger manufacturers and their smaller partners, technology companies play a critical role in creating a more resilient and efficient supply chain ecosystem. It's a collaborative effort that benefits everyone involved and strengthens the industry as a whole.
Q: In the light of the recent incidents like the Suzuki Motorcycles plant shutdown due to a malware attack, how well-prepared is the Indian manufacturing sector to handle cybersecurity threats?
The state of cybersecurity preparedness within Indian manufacturing industries is a cause for concern. Various industries, not just automotive, have faced severe disruptions due to cyberattacks, resulting in operational downtime and, in some cases, the need to pay ransoms in cryptocurrencies to attackers. This highlights a critical area that demands collective attention and action.
Cybersecurity incidents not only impact operations but can also setback digital transformation efforts significantly. Decision-makers who have committed to digitization may find themselves reconsidering their stance after a single cyber incident, fearing the vulnerabilities introduced by connectivity.
In today's discourse on sustainability, it's important to note a direct connection between cybersecurity and sustainability. A cyberattack can lead to the production of goods through compromised systems, especially critical in industries like pharmaceuticals. If the integrity of the audit trail is compromised, and data cannot be securely accessed, entire batches of products may need to be discarded, resulting in substantial waste.
To address these challenges, Indian industries must prioritize cybersecurity measures, adopt best practices, and invest in robust cybersecurity infrastructure. This ensures not only operational resilience but also aligns with broader sustainability goals. Collaborative efforts are essential to create a secure digital manufacturing landscape, protecting both operations and the environment.

Q: How has Rockwell's recent business performance been, and what are your projections for the next three to four years? Where does the India business stand on a global scale?
A: First of all, business has been good. Rockwell Automation, like the entire industry, initially faced challenges due to COVID but has seen a V-shaped recovery. India is among our top growth markets. While we don't disclose specific India numbers, we have experienced double-digit growth in India over the past decade. We expect this growth to accelerate further as India's manufacturing sector continues to expand. We are completing 40 years in India, and we are very excited about the next decade as India's industrial landscape evolves.
Q: What will be your growth areas for the next decade or two?
Manufacturing itself. The growth trajectory for India's economy and industries is promising. Manufacturing is expected to lead GDP growth, with a particular emphasis on consumer-facing industries like consumer goods, pharmaceuticals, and automotive. These sectors will see sustained growth over the next decade. Additionally, infrastructure development in India will continue, ensuring ongoing demand for industries such as steel and cement, where Rockwell Automation has a significant presence.
Our role in supporting these industries remains crucial. We focus on industry-specific solutions, such as those tailored for automotive, life sciences, and other verticals. With India's evolving industrial landscape and ongoing infrastructure projects, we anticipate a substantial role for our solutions in the country's growth story.
Overall, we are optimistic about the next decade, as India continues to expand its industrial footprint, and we aim to be a key partner in this journey.
Q: That means you have to be very closely attuned so you're hiring people from those industries as well?

Absolutely. We hire industry experts and then provide them with technology training. It's more effective to do this than trying to make technologists understand the intricacies of specific industries.

Q: What's your hiring plan for this fiscal or maybe mid to long term?
A: Since the onset of COVID, we've added a significant number of people in India, both organically and through acquisitions. For instance, our acquisition of Knowledge Lens in Bengaluru brought approximately 600 data science and analytics professionals to Rockwell. Similarly, some of our global acquisitions had a presence in India, like Plex, which had a software development centre here.
Q: How many products do you have under the Rockwell umbrella in different verticals?

The number of SKUs that we carry has been ever increasing, and that number is over 385,080, about 3.9 lakh.
Q: The CHR growth of these products in one year would be around 10,000 of products. Are you innovating all the time?
Our industry, unlike others, requires us to support legacy systems, sometimes over 15 years old. We provide upgrades and advanced planning notices, unlike the IT industry, which can dump products quickly. We operate in 85+ countries across 20 major manufacturing industries, so it's complex. We take this seriously and have "preferred products" for each country.
We engage domain experts and industry consultants who understand specific industry needs. Collaboration is key, as the solution consultants work with industry consultants and technology consultants to implement solutions effectively. Talent is crucial, and we've seen significant growth in India, both organically and through acquisitions like Knowledge Lens, adding valuable data science and analytics skills to our team. We have a strong presence in India across all functions.
Q: Is India becoming a key talent supply centre for the global companies?

Yes, I think any country that has not yet figured out that India is the most competitive source of world class talents is having a big blind spot. We source the talent needed for all our functions from here.